Qualcomm's S7 and S7 Pro Gen 1 chipsets are also partly Bluetooth and partly WLAN-enabled audio chips for next-gen earbuds, headphones and speakers, aiming for better ANC, higher quality and extended ranges. Qualcomm also now sends the audio signal via power-efficient WLAN instead of just Bluetooth.
For the S7 Gen 1 (QCC7226) and S7 Pro Gen 1 (QCC7226 + QCP7321), Qualcomm relies on a much more powerful combination of three DSPs (digital signal processor) at twice 500MHz and once 250MHz. For the previous S5 Gen 2, Qualcomm relied on two digital signal processors, each clocked at 240MHz. Qualcomm has quadrupled the new model's built-in RAM to 10.6MB compared to the last generation.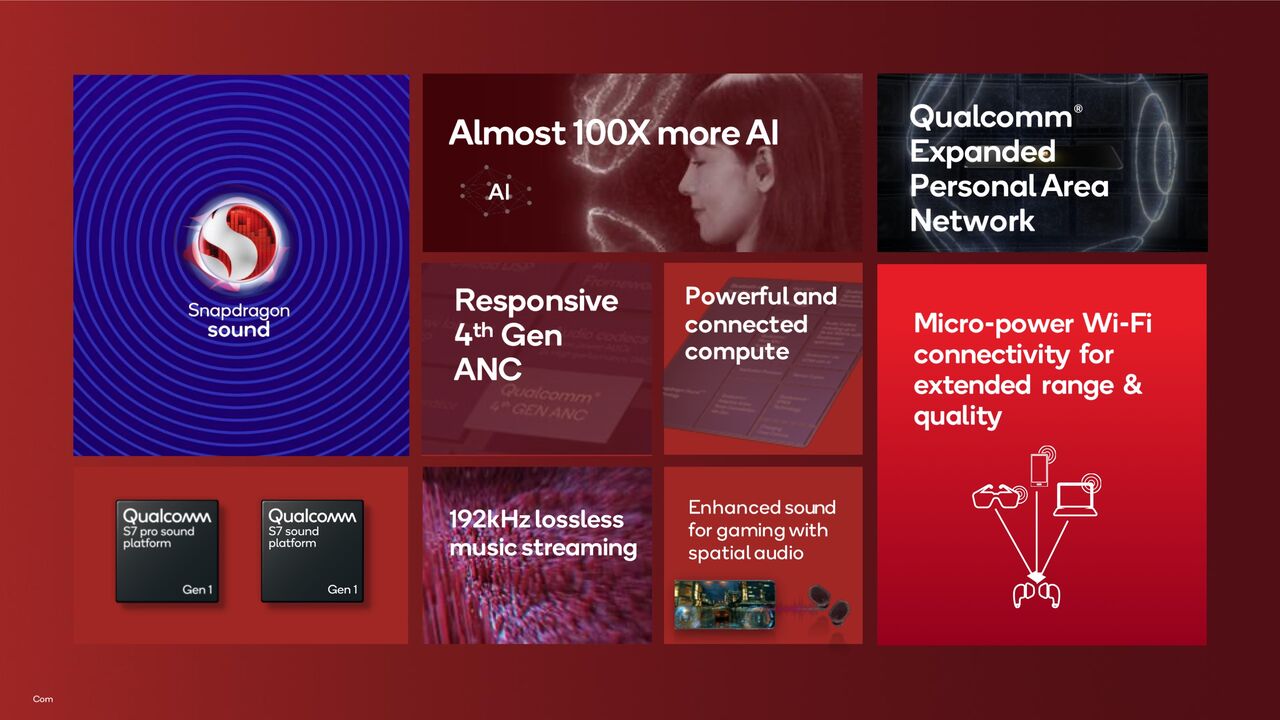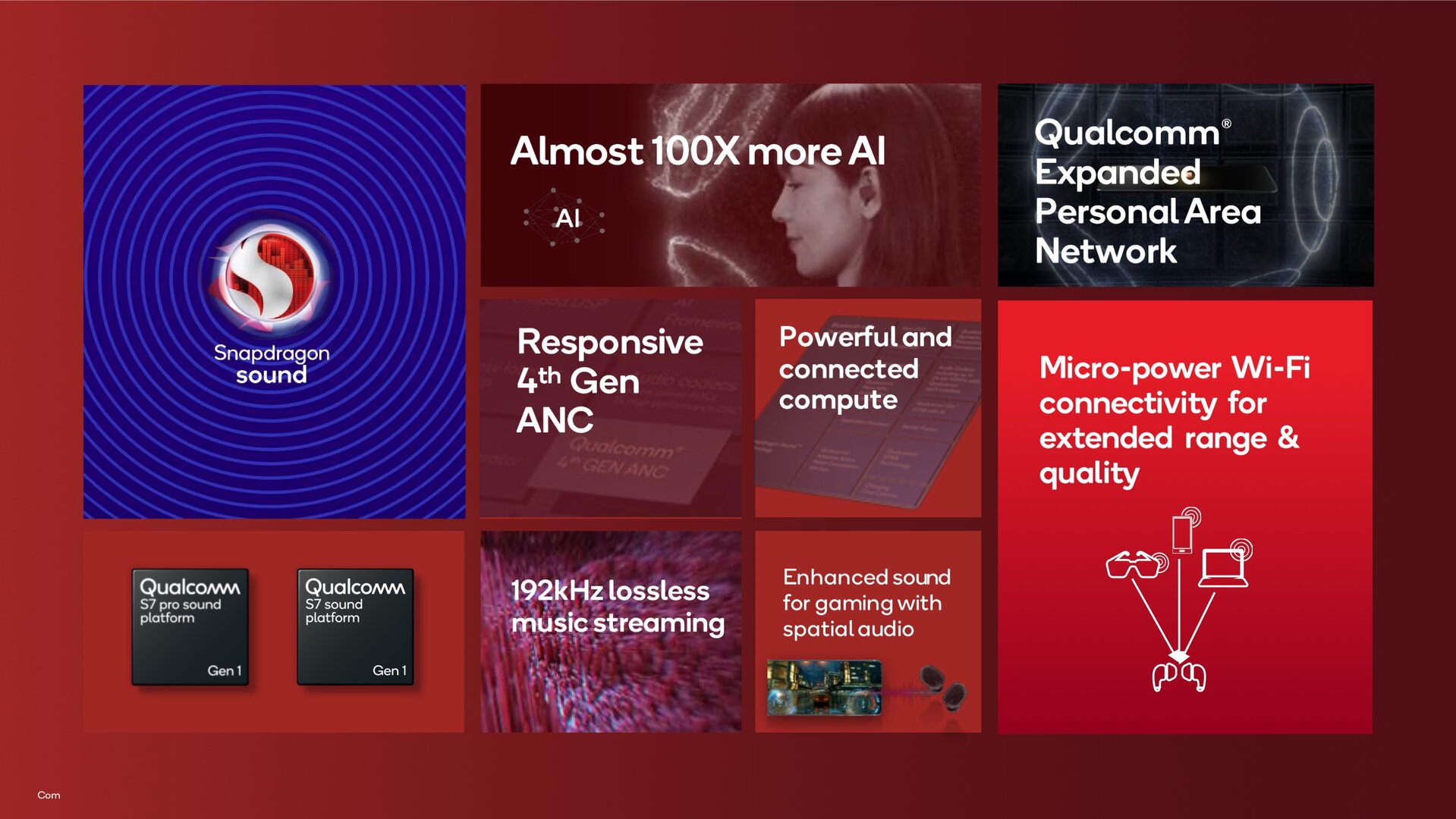 NPU and WLAN for audio chips
Qualcomm wants to increase the computing power of its audio chips by a factor of 6 and also increase AI performance by a factor of 100 via a small NPU (neural processing unit). The S7 Pro Gen 1 is equipped with "Micro-Power Wi-Fi," as Qualcomm calls its energy-efficient WLAN technology, via an additional QCP7321 chip.
The ANC should improve again
The aim of these measures is, on the one hand, to improve the ANC (Active Noise Cancellation) technology of the now fourth generation of Qualcomm. The new solution should react better to a wide range of ambient noise and be able to filter it out of the user's listening experience accordingly. Headphones equipped with sound chips must also be able to compensate for the wearer's potential hearing loss by performing appropriate measurements on the user beforehand.
Qualcomm is also positioning the new solutions in the mobile gaming sector, where particularly low latency can also be achieved in conjunction with spatial audio. The S7 and S7 Pro Gen 1 are based on Bluetooth 5.4 with functions associated with Bluetooth LE Audio including the LC3 codec and Auracast Broadcast Audio.
Audio signals via WLAN instead of Bluetooth
Especially for the S7 Pro Gen 1 with Micro Power Wi-Fi Plus, the focus is on uninterrupted transmission of audio signals beyond Bluetooth capabilities. Extended Personal Area Network (XPAN) technology is what Qualcomm calls signal transfer from Bluetooth to WLAN, which aims to extend the range from a few meters to an entire home or larger building, provided the playback device and headphones are equipped with the chip in the same WLAN.
The connection can be made not only from smartphone to headphones via a router, but also directly from smartphone to headphones via WLAN. Qualcomm increases the data rate to up to 29 Mbit/s and enables lossless audio transmission in 24-bit at 192 kHz. Power consumption should remain at the previous level: the S5 Gen 2 had a playback time of up to 10 hours with 48kHz music with a 50mAh battery via Bluetooth, and the S7 Pro Gen 1 with 96kHz music again had 10 hours across each From Bluetooth and Wi-Fi.
Newer Qualcomm SoCs required
XPAN with Snapdragon Sound can be used on Qualcomm's latest smartphone and laptop solutions: Snapdragon 8 Gen 3, which is expected to be available in the first devices in the coming weeks, and Snapdragon X Elite, which will be announced in summer 2024.
ComputerBase received information about this article from Qualcomm before and during an event the manufacturer held in Maui under a nondisclosure agreement. The company borne the costs of arrival and departure and four nights at the hotel. The manufacturer had no influence or obligation to report. The only requirement was the earliest possible publication date.
 "Subtly charming coffee scholar. General zombie junkie. Introvert. Alcohol nerd. Travel lover. Twitter specialist. Freelance student."