The new full-screen menu for Samsung Smart TVs 2022 is supposed to give users a better overview, but it's actually full of "ads".
TV manufacturers like Samsung Electronics are constantly changing the menu interfaces of their TVs in order to offer a better user experience to their owners. We feel that optimal control was achieved two years ago. The launch bar with content preview on the lower side of the screen, elegant menu overlay, and the option to control the TV via voice assistants or smartphone apps is already enough. So why use a full screen menu or a "full screen home screen" that covers the current program? In our opinion, the answer to this question is not "rest" but "advertisement".
As you can see in the posted image, the list of Samsung Smart TVs 2022 will occupy the entire screen in the future. There is more than a third of an ad banner (there is no other way to describe it) at the top of the screen. Below is a thumbnail of the installed apps (which we still think is good) and below that is another ban that can't be clearly identified as sponsored content, but is very far from the Continue Watching channel as shown below.
Also announced in the new Samsung Gaming Hub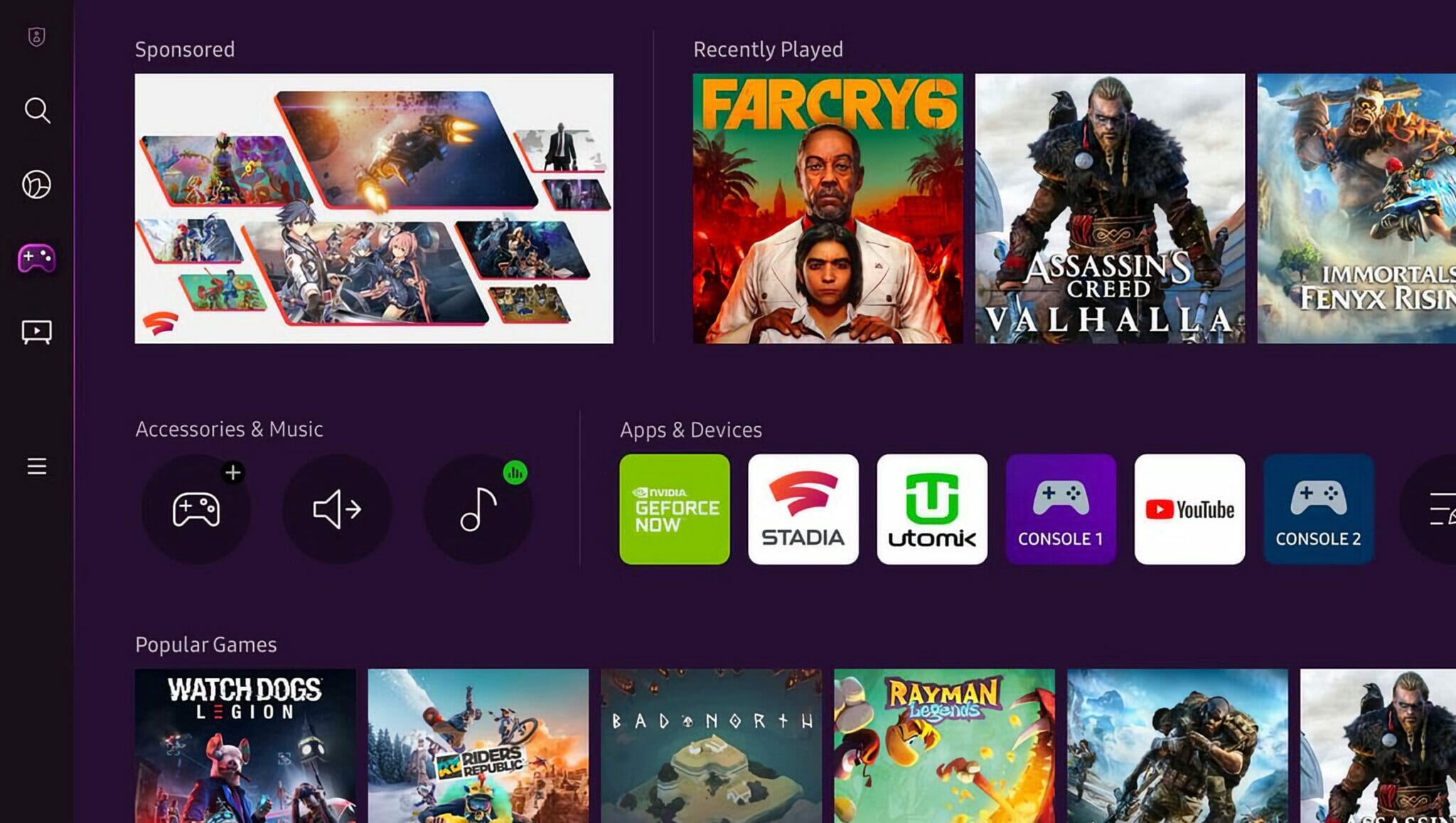 With a similar command of course (Eat or Die), ad blocks will also be created in the new Game Center for Smart TV 2022. The Game Portal, through which games can be played directly on game streaming platforms such as Nvidia Geforce Now, Google Stadia or Utomik and without hardware The console (a console is required of course), on a banner ad on the most popular position.
Samsung explains the new design as follows: "Samsung Smart TVs 2022 are equipped with a new Smart Hub that puts content organization and recognition at the center of your viewing pleasure. The new Smart Hub directs users to their favorite content or helps them discover something new so they spend less time searching. The Smart Hub sidebar also allows users to navigate Seamless cross-categories – Media, Gaming (Gaming Hub) and Ambient – ​​so users can focus on different activities at home."
Advertising provides TV manufacturers with additional profits
Meanwhile, advertising, sponsored content, or whatever "recommendations" of app developers and streaming portals are, has become a calculated profit factor that should not be underestimated in the TV segment. Just a few weeks ago we reported on the American brand VIZIO, which now earns more from advertising than from TV sales itself. Many manufacturers, including rival LG Electronics, which switched to full-screen menus as early as 2021, no longer sell pure products. Televisions, but rather billboards. The top of the iceberg may not have been reached yet. There are no limits to the creativity of TV manufacturers. While updating the app, LG showed an OLED TV user a pop-up ad which is only known by annoying ad sites.
I just received a legitimate commercial while updating apps on my LG OLED TV.

This is not the future I subscribed to. pic.twitter.com/TmQflsCxsl

– Chris Welch (@chriswelch) March 10, 2021
What do you think of the redesign of the Samsung Smart Hub menu? Will the benefits outweigh or will Samsung Electronics primarily benefit from it?
 "Tv expert. Hardcore creator. Extreme music fan. Lifelong twitter geek. Certified travel enthusiast. Baconaholic. Pop culture nerd. Reader. Freelance student."