In Florence's famous Medici burial chapels, the long-hidden hiding place of Michelangelo (1475-1564) will now be available to visitors.
Delicate charcoal drawings, which some experts attribute to Michelangelo, on the walls of a room used until 1955 to store charcoal in the Medici Chapel in Florence.Image: Cornerstone
The Renaissance artist is said to have stayed in the secret room in 1530 for two months to avoid retaliation from the powerful Medici family.
On the walls there are wonderful charcoal drawings attributed to Michelangelo. Bargello Museum Director Paola D'Agostino said Tuesday.
The small chamber – ten meters long, three meters wide and two and a half meters high – was discovered by chance in 1975 when Paolo dal Poggetto, operator of the funerary chapels of the Florentine church of San Lorenzo, was looking for another way out. For visitors. The room was previously used as a coal storage facility, D'Agostino continued. Then restorers found the charcoal sketches under two layers of plaster.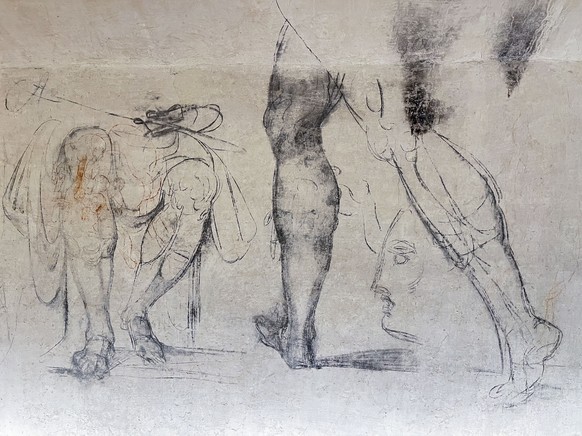 Charcoal drawings on the walls.Image: Cornerstone
Only four visitors at a time are allowed to visit Michelangelo's Secret Room from November 15. The Medici funerary chapels are very popular with tourists. Members of the ruling Medici family are buried there.
The banking family ruled Florence for more than three centuries, and their palaces and artistic treasures still shape the city today. There are also many sculptures by Michelangelo in the chapels.
Only four people are allowed in the room at the same time.Image: Cornerstone
The family initially supported Michelangelo. Pope Clement VII – himself a member of the Medici family – commissioned him to create works of art. But the artist was no longer popular with the Medici in 1527. In the context of the uprising that drove the ruling family into exile, he betrayed his former patrons and allied himself with their opponents.
When the family returned to power a few years later, the artist feared for his life. He hid in the room for two months and planned new works through his murals. Once he was free again, it became clear that Michelangelo had nothing to fear – and he resumed his duties in Florence.
Michelangelo Buonarroti was born in Caprese in Tuscany and died in Rome. His most famous works include the statue of David in the Galleria dell'Accademia in Florence, the frescoes in the Sistine Chapel in the Vatican, and the Pietà in St. Peter's Basilica in Rome. (SAW/SDA/DPA)
This Dutch artist paints with both his hands and feet
Video: Watson
You may also be interested in:
 "Professional music expert. Creator. Student. Twitter aficionado. Unapologetic coffee trailblazer."